Monday, March 25, 2013
Don't ya just love enamelware?!? These pieces are all for sell on Etsy.
This wonderful and colorful collection was put together by
Lauren from A Stitch From Thyme
.
Thanks, Lauren for including my farmhouse grey blue graniteware coffee pot!
I have more own personal collection of enamelware and display it on top of my kitchen cupboards.
So...do you have enamelware anywhere in your home?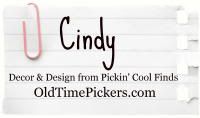 Monday, March 18, 2013
I'm doing some spring cleaning in the
shop
.
Whoo-hoo!!! That means a sale!!!
All sale items are under the 'Old Time Spring Sale' shop section.
More sale items to come!